Buttendz sent me some samples to try out, and here's my review.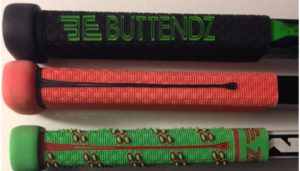 Application Process
I have to hand it to Buttendz, these grips were so easy to put on. Basically all you do is spray the grip with the adhesive that come with it and slide it on your stick. Its as simple as that! The spray isn't sticky at all and doesn't go everywhere. The hardest part was lining up the grip straight. The next day it was stuck on there and wouldn't budge.
First Impressions
These grips looks pretty cool. I really liked the "drip" design. I thought I wasn't going to like this rubber grip because I was so used to the plain old hockey tape. Buttendz are much thinner than other rubber grips and they don't feel as rubber-y. I put it on my stick with an open mind.
Review
When first gripping it with my glove I was a little disappointed. The grip was so sticky that my glove was almost stuck to it. During warm ups it was still so grip-y that I couldn't move my top hand. After a few minutes my opinion changed completely! Maybe it was a little water that got on the grip or something but it started to feel great. The grip got a little slick which allowed for comfortable movement. It was the perfect amount of grip. The knob was soft and felt nice in your hands. After a while I barely even noticed it and focused on stick handling. It felt similar to that grip you get after your regular tape wears down. A good ratio of sticky to slick. I loved it!
Conclusion
I really liked the grip! Its a different feel than tape but that's not necessarily a bad thing. The grips are ultra thin and have a really nice feel to them. The application process made it worth it! No extras needed and you can use the grip over and over again if your stick breaks. I would recommend checking one out!
You can buy a Buttendz grip here.
Use the promo code "stickguru" for $5 off!