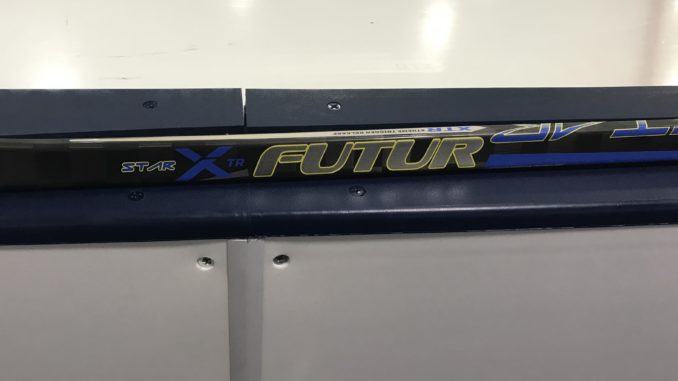 Stick: FUTUR Star XTR
Curve: FP88
Age: Intermediate
Flex: 67
Kick Point: Low kick
Grip or Non Grip: Grip

I think we may have finally found the stick that shakes up the beer league market. A stick that costs $120 that is less than 400 grams? Now you have my attention. I spoke with FUTUR Hockey, chose a model, and a few days later, there it was at my doorstep. I'll be honest their website doesn't do their sticks justice; in person they are sleeker, and much better looking. Yet, the very first thing I noticed was the weight. This stick is super light! I asked for an intermediate stick (which they offer at low flex but with a senior sized shaft). The intermediate is listed at 390 grams. I weigh all my sticks just for my own OCD reasons and it weighed in at 380 grams. So even better than advertised! I have used some sticks around that weight and they tend to feel flimsy or the side walls look thin; But the XTR doesn't. It feels really solid even with being so light. I'm not sure how they did that. Now I know it's light but how does it perform? The XTR is a really well designed and quality stick. I even figured it would break after a few games. I've used it for about 8 games now and the only damage was a few small chips. It has been really holding up well, even when playing center. 

The only thing I thought could be improved was the blade. The puck feel wasn't as responsive as I would have liked. A few times I lost the puck because I couldn't feel it on the blade. The same went for shooting. I love shooting off the toe and when I didn't have the feel for the puck my shots weren't as accurate. Not to say that it wasn't completely devoid of puck feel but it's something that could be upgraded.

The Futur XTR comes with some great features as well. They offer Senior sized shafts at the intermediate flex points which can be helpful to shorter or weaker players. Because of that I didn't have to cut the stick which I liked. With the low kick point it was very easy to load and fire off shots. Consistent shots on both wrist shots and slap shots. I've had a few hundred shots off with pretty decent success. I won't say it was the best shot I've ever taken but I very much liked it. Their various models are pretty similar so you can get whichever stick best fits your play style.

All that being said I actually love this stick! It is well worth the price. It's light, comfortable and performs excellently. Honestly for $120 you'd expect a low quality or Chinese knockoff but this is not that at all. I would not only recommend these but also buy more myself. The combination of performance, and weight (or lack thereof) , and the price is right on point. For the average beer leaguer these are perfect. I get asked all the time by teammates for a lightweight and low cost stick and I usually tell them to pick one or the other. The Futur Star XTR has both.
If you want to check them out, get more info or purchase an STAR XTR, check them out here