If you have ever picked up a new hockey stick and said "what the heck does all this mean?" If so, this is the article for you!
Lets Begin!
Seen below are the markings of my Senior Bauer Vapor APX:



(Figure 1)
What does all this mean!? Lets break it down………….


(Figure 2)
Highlighted we see the name "STAAL". This is another way to designate the curve of the stick. Most brands give their curves a popular NHL player representative. In this case it's one of the Staal brothers. The reason they do this is to get players like yourself excited when you see your favorite players name on your stick. Who wouldn't want to use the same stick as Ovi or Patrick Kane? Some other examples of players that Bauer curves are named after are; Alex Ovechkin, Patrick Kane, Steven Stamkos, and Nicklas Backstrom. The name of the curve may change as players retire, switch brands or new players emerge.


(Figure 3)
Next we see a number "P91A". This is the curve number or designation. Whereas the name of the curve, like "Staal" (seen in figure 2) can change, the letter/number combination will not change. New curves may be added and some may be removed but they usually do not recycle numbers. You can find out more about curves here.


(Figure 4)
Here we see "Reg". This has to do with the stick's flex. In this case it is a "regular" flex. Some brands like Bauer and CCM use another term to easily identify the stick's flex. You may see something like, "Light", "Regular", "Stiff" and "Extra Stiff" written on your stick as well as the flex number. Generally stick flexes are 75, 85, and 100 flex. However, Bauer uses the unique flex ratings, 77, 87, and 102 so this is a helpful way to make sure you have the right flex. 85 is the most popular flex so if you aren't familiar with Bauer sticks you can just look for "reg".


(Figure 5)
Next… you guessed it? The flex number. In this case, this stick has an 87 flex. This is the flex rating of the stick as is. If you cut down the stick the flex rating will change. However, some brands will allow you to cut the sticks (sometimes up to 3 inches) before it affects the flex rating. Many brands will also give you guidelines to tell you how much your flex will increase when cutting it. Seen below: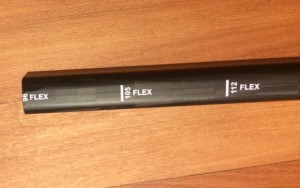 (Figure 6)
I have already cut this stick to the 96 flex mark but you can still see more marking going down the shaft. You can learn more about stick flex here.


(Figure 7)
Last but not least we see "Lie 6". This is the lie of the stick, or how upright the stick is. The lie ranges from 4-7. You can learn more about the lie here.
This is an example of a Bauer stick markings. Usually they are in the same format as this on all Bauer sticks. Other brands may have this information in a different format or location but the information will generally be the same. Unless it is a pro stock stick, your stick will display, at least, the flex rating and curve of the stick. You may also see other markings on your stick like: brand, model, warrantee information and other specific marking for manufacturing.