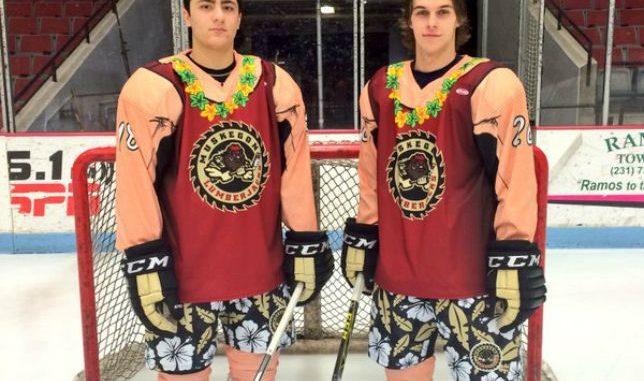 You've been tasked with ordering your teams jerseys. It's a pretty important job considering you control the fashion of your team. As I always say; if you look good, you play good. Designing jerseys was my favorite job when I ran my team. Many leagues may even offer discounts for teams who have matching jerseys. There are many different options to consider so lets break it down. 
The logo
You have a great team name but now you need a great logo. Although jerseys with logos can be cool, they aren't always necessary. Having only the team name on your jerseys may be enough, and is less expensive. But if you do want a logo here's some things to consider. The cheaper option is to go with one of the major online retailers (i.e. Hockey Monkey, Ice Warehouse, Pure Hockey, etc). They have pre-made logos and you just add your team name to it. If you want a more customized one, you may need someone to actually make the logo. Many jersey retailers offer logo creation for a fee when you order a set of jerseys. However, it might be cheaper if you create the logo yourself. If you know a graphic designer, or there's one on your team, even better. I have personally used Fiverr with great success. You should ask them for different file types depending on if you want a crest, or embroidered design. Ask your jersey manufacturer which type they need. The advantage of creating your logo separately is that you aren't stuck with that one jersey retailer. You can take your logo anywhere. You can also make helmet stickers, and other merch with your logo. The last thing to consider is colors. As you will see later on, the less colors you use in your logo, the cheaper it will be. 
Logo types 
Now that you have your cool logo you need to physically get it on the jersey. You have a few options, crests, HeatPress, screen printing and sublimation.
Crests
Crests are pretty much what you see with any pro team. They stand out and are usually sewn onto the jerseys. They are actually cheaper than you think! Ordering 1 or 2 would be pricey but team orders could be as little as $10-$20 per crest. There are two advantages to a crest. The first is, they are the best looking and stand out against the jersey. The second is that you can order a bunch of crests and let your teammates buy their own jerseys. The cost of individual jerseys are up to the player, so they can get as expensive or cheap as they want. The disadvantage is you leave the application of the crest on the players and the jerseys may be inconsistent. 
Heat Press
Your next option is HeatPress. HeatPress is a logo printed onto a sheet that is then ironed onto the jersey with a large fancy iron. It's a cheaper option to crests but only if you order a bunch. Since they have to create the physical logo sheet, they will change more for smaller amounts. The more complex your design, the pricier it becomes. Most embroidery shops can do this, so it's a cheap local option. HeatPress logos (and numbers) are sensitive to heat, so be careful when washing them. Pro tip: wash them inside out to reduce the risk of it peeling or falling off.  Here is an example of a heat press jerseys numbers. 
Screen Printed
Screen printing is where the logo is printed directly onto the jersey. Each color is done separately with a printing screen, hence the name. The less colors you have, the cheaper it should be. The advantage of screen printing is you can have much more elaborate designs that will be cheaper than an elaborate crest.
Sublimation
Sublimated jerseys are usually used by roller hockey teams but some ice as well. The entire jersey is custom printed so you can design 100% of the jersey. So you can get some real crazy and cool designs, like the Muskegon Lumberjacks, or my favorite, Solar Bears Pizza Jerseys. Or some notoriously bad ones (lookin' at you LA Burger Kings). If you're looking for a certain style or jersey where patches or crests may be too expensive, sublimation is the way to go. You can get huge logos for much cheaper than the other options. As they are totally custom printed you can't change them after they are already printed.
Name Plates and Numbers
Numbers
Since the whole point of having jerseys is to have numbers, it's a necessity. There are two different options; Heat-press, and Tackle-Twill. Heat Press numbers, like the jerseys, are ironed directly onto the jersey. Generally you get to choose one or two colors. Try to choose a color that will stand out against the color of your jersey. Usually white or black is a good place to start. They may not last as long as the other options as repetitive washing and use will cause them to peel or fall off. (Again, remember to wash your jerseys inside out) The next option is Tackle-Twill. Tackle-Twill is basically pro style numbers with zig-zag stitching. You usually pay per number (meaning number 17 cost more than just a 7) as well as per color as they are usually layered one on top of the other.  So this could get pricey but it looks cool. There are places you can buy Tackle-Twill numbers separate from the jersey. I don't recommend it unless you know how to do a zig zag stitch. Your local tailor or dry cleaner may be able to do it but it may be expensive, especially if it's for the whole teams jerseys. I didn't mention sublimation but usually the numbers are incorporated into the design.
Name plates 
Another option to consider is name plates. It can be really neat to see your name on the back of your jersey but it isn't a necessity. One thing to consider, is that if a player buys a jersey and leaves the team you can buy it back from them for their replacement. You can't really do that if the players name is on it. Like the numbers, there have the same options, Heat Press and Tackle-Twill. You pay per letter so kick anyone off the team with a long name. (Kidding!) You can have the name printed directly onto the jersey or onto a name plate and then sewn into the jersey. It's usually a few extra bucks but you get that real authentic feel.
Different Price Points of Jerseys
Now that you have your logo you need the actual jerseys. There are a few different options for different budgets. The good thing is that you can put crests, heat pressed or screens printed logos on almost any jerseys. So just cater to your budget. 
Low budget options
If you're in a hurry, not too sure if your team will stay together, have a bunch of new players or subs or you're just starting out you may want to go the super low budget route. Most leagues require at minimum, matching colored jerseys and numbers. Your most basic option is to have your team pick a color and buy the cheapest practice jersey, like these basic jerseys from Pure hockey for $14. You can have your local hockey shop heat-press on the numbers for usually around $10 per jersey. Most of the online retailers like hockey monkey and ice warehouse allow you to do this for a very reasonable price if you don't have a local shop. They also offer upgrades like tackle twill numbers (sewed on) instead of heat press. If you didn't want to order a whole set it's very easy to just tell your team to order a certain color jersey with a number. Don't forget to keep track of the numbers so you don't get duplicates! If you did want to order a whole set of basic jerseys for your team it will be very inexpensive.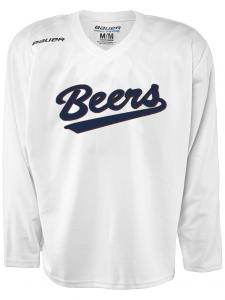 Mid budget options
Mid budget is where most beer league jerseys will fall. You want something that will last a few seasons and will distinguish you from the rest of the league. You can still get some really cool designs without spending a lot. You will most likely have to place a large order for jerseys so check with your team for their jersey sizes and check with your supplier if they have all the sizes you need available. Towards the end of summer and the end of the [calendar] year is when most teams order their jerseys so keep that in mind. My first team had an issue with this because we had some very large players, very small players and a very limited time to get our jerseys. This limited our options and forces us to compromise on the color we wanted. There are too many different options to list but you're looking at a little higher quality and thicker than the practice jerseys I mentioned earlier. The term "Practice Jersey" just means the jerseys are usually a solid color and thinner than typical "game jerseys" Although, the $20-$30 "practice jerseys" would be a perfect mid budget option. For a bit more sprucing up, look at NHL style jerseys, like the Reebok Edge jerseys (around $25-$30). I recommend going with an Original six or similar color schemes. They are much easier to match with socks as well as other protective equipment (i.e. Gloves, helmets, pants etc). The original six colors are pretty easy to come by. Since they are your own design, you can mix and match. For example, the NJ Devils, Chicago Blackhawks and Ottawa Senators all have similar Red, Black, and White colors.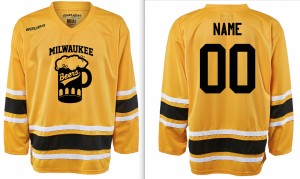 High Budget options
If your team gets sponsored or you want some really nice jerseys go with a high budget option. You're looking at some real official NHL or pro style jerseys. There are many retailers that have uniform design areas for easy designing.  You can get high quality full crests, numbers, shoulder numbers and/or patches that are sewed directly into the jersey. Many of your jersey suppliers offer this option. You can even go to places that make your local pro teams jerseys. These are generally upwards of $60 per jersey. It's hard to list options available because you can pretty much get anything you want in the jersey.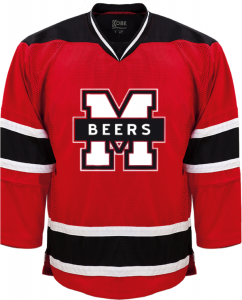 Matching Socks
Not mandatory but having matching socks can be a cool addition. Like I said before, it makes it easier to match with the original six teams. But even plain colored socks are good. Many retailers will give discounts when buying matching socks with an order of jerseys.  There are two options of socks; wool and mesh. Team sock orders aren't a necessity and in my experience most of the team won't want to spend extra on socks. But it's always nice to give your team the option, as they might not be readily available in the matching color.
Copyrights
When designing new logos you have to consider copyright laws. You may really love your favorite NHL teams logo but slightly modifying their design might get you in hot water. You might think that instead of ordering jerseys you can just have your team all wear NHL jerseys. However, Beer league teams have actually been sent cease and desist orders by pro teams for doing so. On the other hand, my current team actually had some great success with modifying an NHL crest. (With permission). We are called the Left Sharks, based on Katy Perry's Super Bowl halftime show. Our logo is pretty similar to the actual San Jose Sharks logo. We had to make a few calls to the NHL and the actual San Jose Sharks but we got permission to use our logo. So do a little research. Many of your jersey retailers should know what's allowed and what isn't.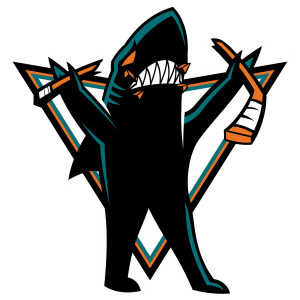 Conclusion
Designing jerseys is the fun part. You can choose from any jersey design and color. I recommend choose plain colors or original 6 teams because it will be much easier for your team to find matching equipment or socks. If you choose to match, that is. You should already have a name planned out so you can base the color on that. For example, I currently play on a team called the left sharks and we use the San Jose Sharks jerseys. Take a poll from your team and see what they like. Also consider what colors some of the other teams in your league wear. My first team had an issue where 4 teams out of 10 had yellow jerseys. You may also want to consider having 2 sets (home and away) in case you're too close to the other team. Once you have an idea you can figure out how to make it. 
The most important thing to remember is to be realistic. Your not a pro team and not everyone wants to spend $150 per jersey, no matter how cool they might be. The best thing is to ask your team what they want then run with it.