We here are at the Stick Guru are all about the hockey stick, but what about some stick accessories? I found some great products and accessories to compliment your collection.
They take broken sticks and make nifty gadgets with them. Love Hockey and Barbecue? Why not combine both with a nifty BBQ set made from real hockey sticks! Hat Trick BBQ uses pro stock sticks from real NHL and pro teams. These are absolutely awesome! Very high quality and built with hockey sticks. Get one for yourself!
Find yourself always running out of tape? Well never again with the Hockey Players club. They are a monthly subscription service that mails you all kinds of tape and accessories. They have all your tapes (White, Black, Wide tape, Poly tape, grip tape and more), as well as laces, pre-workout, wax, skate guards, odor eliminators and I've been told more to come soon! They are easily customization to ship as little or as often as you need. Shipping is super fast and their tape is high quality. Check out my review here. Never run out of tape again with the Hockey Players Club.

Do you hate re-taping your stick every time? Or are you tired of getting your gloves torn apart from your knob? Why not try a Buttendz. Buttendz is a rubber grip alternative to tape. It gives you a similar feel to tape but without the hassle or having to re-tape your stick and it saves your gloves in the process. All it takes is a few sprays from their adhesive and the grips slide on so easily. They have a few different models to choose from for a perfect fit. Buttendz are even used by some NHLers! Check out my review here. Look like a pro and check out Buttendz!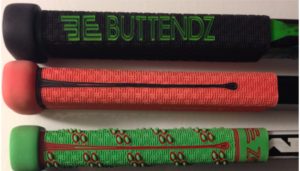 I love using wax, and more so I love using Howies Wax. This stuff smells absolutely amazing. So good in fact that they even need a disclaimer telling you not to eat it. In my opinion, this wax is one of the best on the market. It also lasts forever even when you use a ton of wax per stick. Try a tin!