Need a longer stick? 
For you taller players out there, there's an option for you! You can use whats known as a stick extension to add up to 12 inches. They are relatively easy to install with a heat gun and a glue stick. They can be cut to your perfect size. There are a few different types of extensions.
Edit 09/2022: I have been asked this questions a lot recently. What extension should I use for my intermediate stick? Good news friends! Senior extensions should fit into intermediate shafts.
Important Note: Adding length with lower the Lie and Flex of your stick.
Composite

If you're using a composite stick, a great option is a composite extension. They are made from the same materials as your stick so you are essentially just adding length. Because of the composite materials, it won't change the feel of stick, and won't add much weight. Like the stick, the extensions usually have open ends so you can also put back your end cap if that's what you like. For best results you can use the same brand as your stick for a flawless feel. Bauer, for example, offers an extension for each of their lines.  They are offered by many of the major brands, (i.e Bauer, CCM, Eagle and True). They come in 4 and 6 inch lengths.
Warrior Also has a tapered version of the composite extension. The Tapered version is 6 inches long and has a much thinner shaft if that's something you'd like. (seen bellow)
Wood
Stick extensions are also made out of wood. They offer a more "old school" feel for your top hand. It will most likely change the feel of your stick. Wood extenders are generally heavier and stiffer than the composite options. However, wood does have many advantages that composite cant match. You can customize your extensions, length, thickness or even shape. Take Martin St. Louis for example: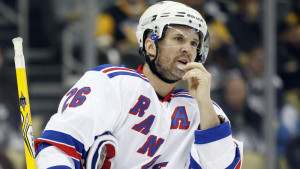 If you zoom in on the photo you see how his stick has a strange tapered shape to it. You can sand it down to whatever shape you like. Wood sticks come in 6-12 inch lenghts. There is also a curved option seen below.
How to add an extension
Extensions are fairly easy to install. What you will need is a heat gun, a glue stick and a bucket of ice or cold water (or a sink works too). You can get the glue stick from your local hockey shop or an art supply store. I recommend the larger size stick that look like this. It helps to prevent over melting and burning your hands vs the smaller ones used in glue guns. I also recommend buying your own heat gun. They can be less than $20 USD at your local hardware store and can come in handy. Most pro shops also have heat guns if you want to let them do it for you.
To do it yourself, you start by heating up the glue and rubbing the melting glue on the extension pin (the part that goes inside the stick). Then you heat up the end of your stick as well as the extension pin. I recommend heating up a little farther down the shaft of your stick than the extension will go. (about 6 inches or so). This will help it glide in easier. Then your slide the pin into the shaft. If you heated it up properly is should slide in easy. Its totally okay for some glue to ooze out. You can also put some glue on the joint for a tighter seal. If you notice that your extension wobbles or you want to ensure a really tight fit you can wrap a strip of tape on the extension pin and cover it in glue before putting it in the shaft. Once your shaft and extension are combined, give it a few good taps on the end to make sure its tight. Then dunk the extension in the ice/water or run it under cold water. This will solidify the glue. Then trim off the glue that oozed out over the joint. Tape up and you're ready to go! I recommend waiting at least a few hours between playing with a stick that you just added an extension to to ensure a good bond.