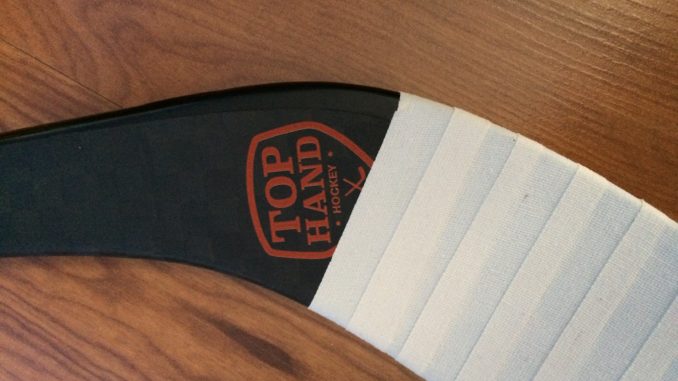 Stick: The Reaper
Curve: TH88 (P88)
Flex: 77 flex
Kick Point:
Grip or Non Grip: Non-Grip Matte
First Impressions: 
I had spoken to the owner of Top Hand Hockey so I was able to get all the details about the stick before trying it. He's a player who just wanted a stick to make his own and I think it really shows.
I really love the look of this stick. It's not overly covered in graphics, shiny or flashy. It has a simple black base with some red text and the company and reaper logo. Very simple and sleek. It has a very thick graphic, which you which is very obvious when you cut through it. It feels very sturdy and solid in your hand. That being said, it is very light, weighing in at 442 grams (as weighed by me).
I got the matte version which has a ribbing (on both sides of the shaft) which feels very comfortable. I personally like matte shafts with ribbing and this was perfect.
Review:
You can really tell that a player designed this stick. Its not overly flashy or over the top like the major manufacturers. He added some little features that he liked to have that I think really go well on the stick.
It is a true one piece and you can tell. When stick handling and shooting you can really feel the puck. It's like you're touching it with your hand. Everything feels so natural, and sometimes you forget like you're holding a stick. Its a tiny bit bottom heavy because it has a reinforced kick-point. It feels similar to the Sherwood Rekker 15, however its much sturdier feeling. I have used the Sherwood Rekker EK15 and it is so thin and light that I felt like I was going to break it. Where as with the Reaper, I'm not afraid to go hard with it. The first game I played with it was pretty chippy and I took countless slashes to the stick and barely any scratches. I even blocked a slap shot with it, without a scratch.
My only dislikes was the stiffness. I cut all my sticks about 4 inches. Most of the time when I cut a 75 flex stick they feel like 85-95 flex once I cut it. However, the Reaper was a 77 flex and after I cut it it felt more like 100 flex or more. I feel like this hurts my shots and passes a bit because I wasn't getting enough flex into the stick. I used this for a few games and it seemed to soften up a bit but still felt stiff.
Conclusion: 
I really liked this stick. It wasn't overly flashy and it didn't really have the "wow" factor like some of the major manufacturers have. This stick wont be game changing but it is a very comfortable. It feels natural. I would rate it a 8/10. The reason it wasn't higher was the stiffness of the stick hindered the performance. I gave the stick to a few of my teammate who preferred stiffer sticks and they loved it but also said it was stiff. I would compare the feel to a mid end performance stick but with the quality, puck feel and weight of a high end. It's a very good quality stick for beer leaguers who want a light, high end, no frills stick for a fair price. Check them out here.