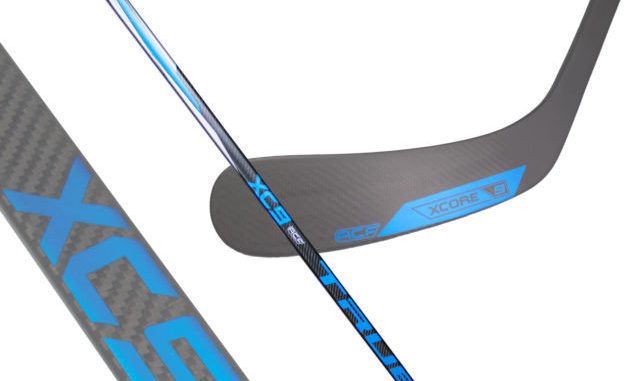 Stick: True XCore 9
Curve: TC2
Flex: 85 flex
Kick Point: Mid Kick-Point
Grip or Non Grip: Non-Grip
First Impressions: Other than the price, (Which I feel is very high) I was really excited to try this stick. My experience with True sticks, although short, have been phenomenal. They are sleek, light, have great puck feel and perform very well.
Review:
The best part of this stick is definitely the blade. It's weird (in a good way) as the blade is soft yet somehow firm (but not ping-y). I tend to prefer ping-y blades like the RBZ series or Warrior blades. However it was very reassuring because I could always feel where the puck was on my blade. Because of the construction it was so easy to catch passes. There is a little polyurethane insert in the center of the blade (you can see it from the bottom) which, according to True, is supposed to give the stick a "wood-like" feel. I usually take stick manufacturer's technology buzzwords with a grain of salt, but I do think the blade has a wood-esque feel to it. The stick is light, while still being well balanced, which combined with great puck feel made me want to stick handle more than I usually do. It can be almost too light at times if you're not used to something this light. Similar to the Rekker Ek-15, where you can feel everything and the stick is so easy to move around that you almost forget about it. In my opinion I don't feel as confident with the lightness of the stick, a little weight makes you feel something in your hands. Not necessarily a bad thing, just my personal preference. It's a mid kick point but it was surprisingly easy to load, even for wrist shots. The stick really whips the puck on net. Shots came off surprisingly quick and hard. I used an 85 flex cut down 3 inches (around 95) but it still felt a bit whippy-er, similar to Warrior sticks. I cant speak for its durability because I haven't used it enough.
Conclusion:
This is a real stick handlers and shooters stick. You can always feel the puck, which is True's best feature. You have total control of the puck. But, its not going to give you that burst of speed from the blade but if you take the time you really get a lot of power into your shot. This stick is more for guys who know exactly how to use it. With the hefty price tag most of us should steer clear but if you have the cash I definitely recommend trying a True XCore 9. I'd give it an 9 out of 10. It lost a point for price and lightness.