The Twig Hockey Company is a relatively new-comer to the hockey stick market. Starting just last year (2015) they aim to make the best hockey stick in the world for the average hockey player. They wanted to make a high end stick but without the high end price. They also have goalie sticks.
Why Twig?
Many of us are beer leaguers and want all the performance we can get from a stick but cant afford the $300 price tag of the high end composites. Why not get a high quality, high performance stick for an affordable price? Twig has figured out a way to make a stick affordable to everyone for under $100. The only have 1 model (as of now) for each size (Senior, Intermediate, Junior and Goalie). They are also coming out with a stick specifically designed for Juniors so they too can have a high performance stick as a price that wont hurt their parents wallet. Keep checking in for updates.
Here are some features about the Twig
Shaft Construction: 100% Japanese Toray Carbon Fiber True One-piece Spear Construction
Kick Point: Mid Kick-Point
Shaft Dimensions: Straight side walls with rounded corners that tapers into an elliptical profile at the hosel
Blade Construction: PU/Foam Blade Core
Finish: The entire shaft and blade are finish wrapped in 12k Carbon Fiber. The shaft has grip coating.
Weight: Approx. 415g
Length: 66 inches (when stood upright on the toe against the wall)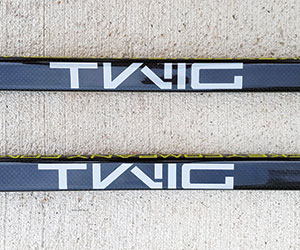 Check out their website for more here.