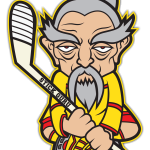 Welcome to the Stick Guru. This site is for Hockey players, young and old who want to learn something new about hockey sticks. If you don't learn at least one new thing, I haven't done my job. I first started playing hockey in college and I knew absolutely nothing about hockey sticks. How was I supposed to know about what length I should use, what flex? what curve? and what the heck is a kick point? I wished that there was a place where I could find this information but sadly there was not. I decided to create my own place where you could go to, to find everything you would want to know before you buy a stick.
Getting the right stick is very important. "An expert can play anything and make is sound the way they want it to sound. They can make up for the flaws in the instrument better than a novice can." – Unknown
As a novice, you need to right equipment to benefit your game. So why not do your research?
Looking for a place to start?
Check out the beginners overview here.
If you have any questions or suggestions to make this site better don't hesitate to contact.
Like us on Facebook, and follow us on Instagram and Twitter
I also have a great Etsy page where I make custom game used hockey stick lamps. Check them out here.
$5 off to the first 10 people using code "stickguru5"