Now that you know the basics about flex, seen here, lets get into specifics.
Which flex is right for you?
There is a general formula for determining your flex. This is calculated by dividing your body weight in half. If you weigh 170 pounds, (77 Kilos for you metric users) You should use around an 85 flex. To refresh your memory: an 85 flex stick requires 85 pounds of force to bend the stick 1 inch with a full length stick. Seems simple enough, right? However, hockey is a game of preference so, just because you weigh 170 does not mean that you must use an 85 flex. You may find that the 85 is too stiff for you, and there is nothing wrong with using a 75 flex stick. The same goes if you think the 85 flex has too much flex and need something stiffer.
When choosing a stick, before you even leave the store you can estimate what the right flex for you might be. Give your potential stick a good flex, (press down on the shaft with your normal hand position). Make sure you don't put all of your weight into it or you may actually break or ruin the stick. The staff will probably yell at you if you press too hard. You should be able to flex it 2-3 inches comfortably. This is not the total amount of flex you will be getting. There are many other variables, like, increased weight from your pads, extra height on skates or speed. So, once you are on the ice you may feel like the stick gets more flex than you felt in the store. Once you lean into a slapshot you will get much more than a soft flex in the store. Also, when you are flexing sticks in a store, please be reasonable. If you weigh 250 pounds don't go trying to lean into a 75 flex stick. Start by using the formula and get as close to your suggested rating as you can. If your suggested rating is between flexes, start with the lower one. If you plan on cutting your stick, "choke up" or hold your top hand lower on the stick to get a better feel for what it will feel like.
Lets see what this looks like:
You see this potential stick buyer lightly flexing the shaft. He has flexed it about an inch. This player is most likely choosing the correct flex.
Lets see some examples from the NHL: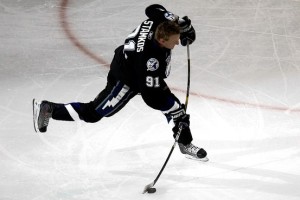 Notice how Steven Stamkos' stick bends as he takes a slapshot. He is putting a lot of his weight into the shot but his stick is getting the perfect amount of flex; Not too bent and not too stiff. How can I tell? Even with all this weight, the stick is only flexing maybe 3-5 inches. You need just enough bend to help your shot but not too much were you will risk structural failure. Alternatively, too stiff of a flex wont give you enough flex to reach your top velocity potential.
Lets see an example of someone using the wrong flex: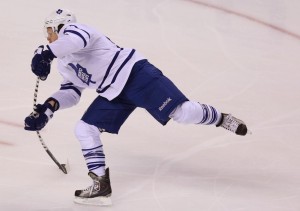 Here, our friend, Phil Kessel is taking a very strong wrist shot. As you can see he uses a very whippy stick and gets tons of flex on the shaft. For the everyday player this is too much flex. You can see his stick almost looks bent in half. I believe that Phil Kessel uses an 80 flex stick and he weighs over 200 pounds. His suggested flex rating based on his weight is 100. It is completely okay to use a stick that has this much flex, however but be prepared to shell out a lot of cash on replacing your broken sticks.
It is true that the more flex you have the faster your shot can go. Phil Kessel definitely has one of the harder wrist shots in the NHL. However, it will effect your passing ability (catching and receiving) as well as stick handling because you don't have as much control over the stick.
You may read this and think, "I weigh 200 pounds and I find 100 flex sticks too stiff" But like I said earlier, your flex rating is a personal preference and not a formula. There is nothing wrong with using a stick that you are comfortable with, no matter what the rating says. There is nothing wrong with using a stick with a lower flex rating as long as it is right for you.
What does it look like when your stick is too stiff?
It is quite hard to find images of players with the wrong flex, but lets use this as an example:
Here we see Big Bruins Defenseman, Zdeno Chara. He has the hardest shot in the NHL at 108.8 Mph. He also uses the stiffest stick in the NHL; which is a whopping 150 flex. He is quite strong so he needs a strong, stiff stick. You can see how he is putting all of his weight into this stick and it really isn't flexed too much. For you, this would mean that your stick is too stiff but for Chara it is the right amount. If off the ice you find that you can't bend it at least 1 inch you may need a lighter flexing stick. Also if you take slap shots and don't feel your stick flex this is another sign that you need a lower flex.
Breakdown by Position:
Now you know a little about what it looks like to have the right and wrong flex. Adding to the preference, your position may also plays a major factor in which flex you choose. Using our NHL examples, Steven Stamkos is a Center, Phil Kessel is a Winger and Zdeno Chara is a Defenseman. Wingers may prefer a lower flex stick. They tend to need faster shot release and tend to take more wrist snap and snap shots. With a lower flex, it gives them added quickness and power on their shots, sacrificing durability and overall velocity. Centers also prefer lower flexes, however it is not as important. Centers take face-offs which after numerous hacks to the hossel (space just above the blade) can increase the flex of the stick after micro-cracks form. Also centers who play screen roles and "putting in the trash" goals need more hand speed rather than release speed. Having a super whippy stick may cause centers to loose speed on those goals and break more sticks. Lastly, we have our Defenseman. Defenseman usually prefer the stiffest sticks. Many defenseman take slap shots and do a lot of hacking with their sticks, on other players as well as the boards when forechecking. Having a stiffer stick allows them to take repeated hard slap shots, collisions with the boards and slashes without worrying about their sticks breaking. They can lean hard into the shot and the stick will respond with an increased velocity.